How much does a segway?, courtesy of Saff anna
Metro musings, charter bus parking, meter rates rising…five goooooold rings!
*ahem* 'Scuse me.
So Jim Graham's pushing to pop downtown meter rates to $2 an hour. Additionally, the DC Council is considering ditching the District's long-standing practice of free meter parking on the weekends in the downtown core.
The rate increase isn't for additional revenue, however. Graham noted that it's "about finding more money for a specific compelling need in the city," specifically a funding resource for the affordable housing projects in the District. Such projects include programs for first-time home buyers and permanent supportive housing for the homeless.
Other thinking is that the higher rates would discourage commuters from the 'cheaper' parking alternative to the expensive garages and open up more spaces for shoppers. Current meter rates in the District are a lot cheaper than other downtown cores, such as New York, Philadelphia and Chicago.
Hey, if the revenue is used as suggested, I'm all for it.

reflective motion, courtesy of Me
Inauguration Day is still roughly seven weeks away and the planning continues. The latest logic puzzle? Where on earth do you park an estimated 10,000 charter buses?
That's what Obama's transportation planners have to figure out. Based on their own projections from bookings, operator queries and crowd estimates, we're looking at a ginormous amount of those big ol' buses invading our region.
Suggestions so far include the traditional venues of RFK Stadium and FedEx Field, plus Six Flags in Bowie and at Laurel Park racetrack. The problem they're encountering is that these charters have to be on surface lots because the average bus size is too big for parking garages. Sites such as Wolf Trap, Hains Point and Nationals Park are no-brainers, and according to WaPo, Arlington Cemetery and East Potomac Park are also under consideration.
But if you park these out in the boonies, you still have to get the people into town. Shuttle buses will clog traffic for sure. (Goodbye, green footprint!) And according to City Administrator Dan Tangherlini, it's not parking the buses that's a big problem, it's getting the riders from the bus to downtown.
I don't envy them these logistical problems. With all the news about these interesting Gordian knots surrounding the Inauguration, it's going to either be a huge win for the District, or one ginormous EPIC FAIL. Bets, anyone?
And now, our WTF? moment for the week. Brought to you by – surprise! – WMATA.
Yesterday, WMATA unveiled a new plan by Catoe & Co.: wool seat covers for Metro.
Yep, that's right. Wool.
As in, retains water when wet, absorbant of smell, and apparently only capable of being produced in garish, lets-take-the-Delorian-back-to-the-70s coloring.
Don't believe me? Watch the video they so helpfully put out: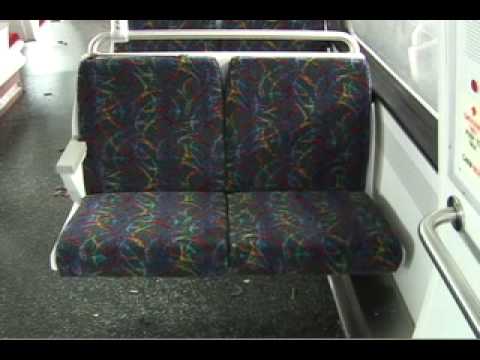 Am I the only one who thought it felt like an episode of Trading Spaces, with full Hildy-esque taste? And what's with the names of these colors, anyway?
For the love of our fashion sanity and olfactory senses, please try again, Metro. We beg you.