The "next big thing" is thrown around a lot in music culture. What you hear about less often is the next great thing, the next band that'll knock your socks off not just because all the cool kids love them but because they are just that good. If there is a musical god out there doling out success to those most deserving, Dawes, a rock and roll quartet from Los Angeles who will be appearing at the Rock & Roll Hotel on Wednesday, will be just one such band. Their 2009 debut, "North Hills," was praised by critics as wide-ranging as Rolling Stone and the Wall Street Journal (!); Daytrotter's Sean Moeller calls lyricist Taylor Goldsmith "as magnificent of a songwriter as there is currently creating." Goldsmith has a knack for crafting beautiful lyrics that make order out of the chaos of our lives, and the men sharing the stage with him — his brother, drummer Griffin Goldsmith; Wylie Gelber on bass; and Alex Casnoff on keyboards — excel at setting those lyrics to music. On stage, the result is an improbable blend of melodic folk and high-energy rock and roll.
And they need that energy to get through a tour schedule that seems endless. In the last year and a half, the band has appeared at such festivals as South By Southwest, Newport Folk Festival, Austin City Limits and Lollapalooza, and opened for artists including (deep breath here): Josh Ritter, Corey Chisel and the Wandering Sons, Edward Sharpe, Langhorne Slim, She and Him, Jason Boesel, Deer Tick and Delta Spirit. Dawes has hit the road hard in support of "North Hills," and the legwork has paid off. The tour that brings them back to D.C. for their fourth show in the area in a year is their first as headliners.
As a special thanks to We Love DC readers, we're giving away a pair of tickets to Wednesday's show. See the bottom of this post for rules of the giveaway.
I talked with Taylor Goldsmith about the band's rising star, musical influences and future plans:

'Taylor Goldsmith of Dawes'
courtesy of 'weeklydig'
I've seen you described as a throwback band, natural descendants of artists like Crosby Stills and Nash or CCR. And you're also part of a vibrant contemporary scene, sharing the stage with artists like Cory Chisel, Delta Spirit, Deer Tick and Josh Ritter. How would you describe your sound?
No band would want to be just some throwback. We definitely want to be regarded as a contemporary thing and that we do bring something new to the table. We do understand that there are qualities of our band that are associative to time past — like a guitar solo or certain things that people think, 'Oh, this is what rock and roll used to be like and it's not like that much anymore.' It's hard, because it's not like we're trying to sound like an older band. We just want to try to do what's fun for us. And so that sometimes makes someone think, 'Oh this is an older sound.' … There are a lot of incredible songwriters throughout time that definitely carved out their own place. Like a guy like Tom Petty — I don't think that when he started, he came into it and really changed the game in terms of bringing in a new sound. I think he wanted to play rock and roll, and he developed a catalog and wrote good songs, and eventually become one of the greats. We do what comes natural to us. As cool as it would be to be the kind of band like Radiohead or The Walkmen, a band that no one ever heard anyone sound like that until they came along, that would be cool, but at the same time, that's what comes natural to them. For us, that's just not the case. We don't want to fight it or redirect what comes naturally.
You're on your way to Nashville for a show right now, so I'm wondering if that might affect the way you answer this next question. Who are the artists that you're listening to while you're driving around the country or just looking for inspiration?
It's always changing. Every artist is a sponge, sort of. It's like a wet towel that you ring out, and some towels are bigger than others and you can get a bit more out of it, but then eventually you get to the point where you don't really listen to anymore because then you know it back and forth. Like any musician who plays rock and roll, I feel very much indebted to The Beatles and that sort of thing, but I grew up listening to them so much, so while I still appreciate it and love it, I don't really go to it much anymore because I feel like I know it inside and out. Every artist, I go through that process with them, and it dries up. Recently I've been listening to a lot of Dire Straits and Leon Redbone and Warren Zevon and Allman Brothers and Jackson Browne, and stuff like that. Last week it was Lucinda Williams and a whole different kind of thing. Its always changing and some stuff comes back into the rotation, and sometimes some stuff doesn't.
The blog I write for is called We Love DC, so I have to ask: Any plans to play tourist while you're here? It is the nation's capital, so is there anything you'd like to see while you're here?
There was one tour where we made time to go down ot the Lincoln Memorial and the Vietnam Memorial and the World War II memorial, walking around that whole area that day. Now, with the load-in and getting a decent soundcheck and making sure we eat dinner and all that, by the time we have any free time, it's always not enough free time or it's too late. I don't know what city we're driving in from the next day, but hopefully it's close enough that we can check some stuff out.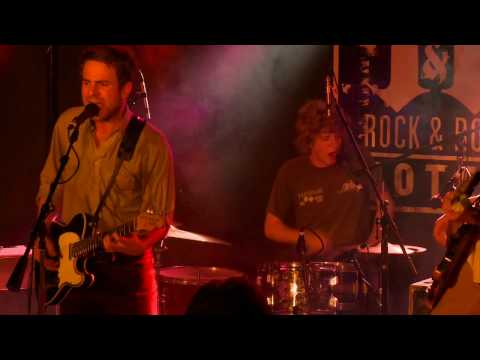 You're playing at the Rock and Roll Hotel, for the second time in just over a year, and your fourth show in the area in that time. How do you feel you've grown or changed as a band since then as your star has taken off a bit?
It's cool that we are gonna headline this time, because last time we were in support of Langhorne Slim. D.C. has been really cool for us. Its been a really great year because w have started to learn how to play to different audiences. When we first started playing at festivals, shows, we didn't know how to maintain a crowd that big, or captivate a crowd that big in certain cases. So the set that you'd play there is very different from that set that you'd play at a fairly decent-sized bar. So we've definitely learned a lot about how to put together the right kind of show for the right kind of environment. So it's been a really cool year because were starting to find our audience. It's definitely in the very beginning steps, but we've noticed, especially with this tour that we're on now, the people that are coming listen to the things that we enjoy.We've  been on tours before with certain kinds of bands that might have a more pop sensibility or a more soft sensibility, but for us, we like to jam and we like to play. I think jam's a funny word, but we like to play a guitar solo, we like to feature the musicianship. People seem responsive to that. It's not just that we feature that song that they heard on the radio. That they are accepting of us on own terms … is really, really rewarding, even if we're just playing to 10 people.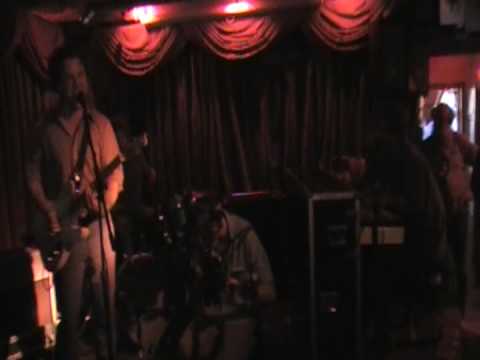 I saw you at Iota in Clarendon earlier this year, and that was the first time that I had heard you. That night, you got a really strong response to "When My Time Comes," and in seeing clips on YouTube I've seen that's not an isolated reaction. Why do you think the song resonates so strongly with audiences, and how are you playing that into the setlist as you go out in front of the crowd?
When we were we coming up — I mean, we still very much are — when we were doing opening sets for audiences that didn't know us at all, like when we were first going out with Deer Tick and Delta Spirit, we would play that song fourth of fifth because I feel like for the first three or four songs, people would be, like, 'OK, I'm willing to give this band a little bit of my attention. I haven't made up my mind yet but I'm listening.' With that song, not that everyone would just immediately like it, but it is the song that I feel like confirmed anyone on the fence, and I feel like after that song, it would either be, 'OK, I like it,' or 'I don't like it.' So we played it early because once we used that song to win anyone over that hadn't really decided yet, then people would be willing to listen to the rest of the set. And now, appealing to audiences that for the most part are familiar with us, we like to play that song last, because it ends the show on a high note and it gets people excited. Even thinking forward, when we release our second album, we're thinking of doing that song in an earlier slot again, not continuing to keep that song as our main focus, because we want to direct attention to our new material.
I see some bands that will put out their second record, but they'll still play their single of their first album last, and I feel like that's letting the audience come to that show for that one song, and we want to make sure that this song, as grateful as we are for all the good it's done for the band, we also don't want to be all about that one song. I think it's cool when you see a band like Fleet Foxes or My Morning Jacket or Wilco, they have careers where you aren't depending on them to write their second big hit or something becaue their albums are so good.
Following on that, from my own recollections of hearing you sing that song: A lot of nights it seems like you are on the verge of shredding your voice. You leave it all out there there. How are you able to sustain that every single night? Has it affected your songwriting at all—are you writing quieter songs that don't require you to do that, or give you a break in the show?
No, I knock on wood. I don't have any voice trouble. The one thing that will happen to me pretty regularly is when I'll sing for a month or two every night and we'll go on tour and I'll be fine, better at the end than at the beginning. Then once the next tour starts, after a month of not singing, I'll go out there and sing like I did after those two months of touring, like my voice has built up to being able to handle that, but then the second night you'll really hear my voice being kinda thrashed. It's like a muscle: I tear it up, and then it comes together stronger. When I look at videos or live footage of Otis Redding or Bruce Springsteen, guys that are not singing 'correctly' and are shredding their voices, I think if you just go with it and not freak out as much, I think you'll be fine. In fact, with the new material,I'm  asking even more of myself vocally.
You've had months—over a year now—of touring behind the songs from "North Hills." What are some of the best experiences you've had on the road?

There's definitely key shows and moments that really mean a lot. And people will come up and say,  'I know you hear this all the time, but that album, it really helped me through a rough patch.' And it means a lot every time that I hear that. Sometimes it's hard to know how to respond other than, 'Thank you that means a lot.' I don't know how genuine people realize I'm trying to be, but it does mean a lot. People saying, 'Yeah, we had that one song of yours as the first dance at our wedding.' Crazy stuff like that, it means so much. It's really fun to get up on stage and rock out, but for these songs to mean something to someone and help heal, not necessarily through my words, but through what they take from it, which is maybe something wise beyond what I had intended in it or could see in it, just that it could help them learn a little more patience or love or just inherent goodness or something — that's what matters more than anything. So when we hear moments of people having something like that, it's really great.
And then also, certain shows in certain cities that were much bigger for us than we could have thought they were going to be. And certain festivals—you know, being part of a timeline, like playing Newport Folk Festival and getting asked by the promoter to come up and sing 'I Shall Be Released' with Levon Helm, there are moments like that that we'll never forget.
Speaking of festivals, at South by Southwest this year, you sat in with John McCauley and Matt Vasquez to create a sort of folk supergroup called MG&V. Those videos are up online, and they're excellent. Was it a one-time thing, or do you see something more coming of that?
We made a record in the January before that SXSW, and the album is going to be coming out this March. The band's called Middle Brother. It'll be the songs that are on those videos, and I'm really excited about it.
Your last Rock and Roll Hotel show was professionally recorded and that's up on YouTube, along with a lot of fan videos. I know a lot of music fans who think fan recordings distract from the experience of a live show, and some artists have complained of what amounts to free versions of their songs online. How do you feel about people experiencing your live shows that way?
It'll break my heart if I ever hear someone say, Well, I don't need to see that band play, because I can just watch all their stuff on YouTube.' That would suck, because it's getting ridiculous how a band can't make money now. Everywhere that they've turned, then something goes wrong. Like everyone's resigned to the fact that records aren't being sold, we just aren't going to sell records, that you're not going to make money in that way anymore, and that's just part of the deal. And then it's like, 'OK, we're just going to focus on live touring. We're going to tour all the time and try to make a go for it there,' and that'll be the way that a band makes money. And then you hear that the markets being flooded and every band is saying the same thing, and people can't afford to go to shows six nights a week, so then bands start not selling enough tickets. There are less and less directions to turn for this to be sustainable.
Live shows, regardless of what I just said, are still one of the only sure things for a band right now, and I don't care about people having access to new material and I don't care about people having access to live footage—I think that's awesome. I just feel that when that becomes a substitute for actually buying a ticket or going to a show, if that became commonplace, I don't know what we'd be able to do. We wouldn't have any way of making money, and we'd have to go home–no one's coming to shows and theres no one to play to, and those YouTube videos would be null and void.
Speaking of making money, it seems like you are close to having a new album. There are new songs popping up in shows. Do you have a followup planned?
Yeah, yeah, we just finished recording it in September. Because of the Middle Brother stuff coming out in March, the next Dawes album will come out around May.
Do you have a title for it yet?
Nope, unfortunately no title. We're definitely wracking our brains, but we don't know what it is yet.
How do you see the new material that you're working on comparing to 'North Hills'?
It's definitely a little more aggressive, a little more alive, a little more energetic. Aggressive is a weird word, I guess, but a little more of a higher energy.
Dawes appears Wednesday at the Rock and Roll Hotel. Doors are at 7; music starts at 8.
Like what you've heard? Then enter to win a pair of tickets to Wednesday's show at the Rock & Roll Hotel:
The rules:
For your chance to win these tickets simply leave a comment on this post using a valid e-mail address between 1 p.m today and noon Tuesday. One entry per email address, please.
Comments will be closed at noon on Tuesday, and a winner will be randomly selected. The winner will be notified by e-mail. The winner must respond to our e-mail by 5:00 Tuesday afternoon or they will forfeit their tickets and we will pick another winner.
Tickets will be available to the winner at will call at the R&R Hotel. The tickets must be claimed with a valid ID. The winner must be old enough to attend the specific concert or must have a parent's permission to enter if he/she is under 18 years old.