'Bill Miller and Derek Miller (no relation) perform at the 2010 Indian Summer Showcase at NMAI'
courtesy of 'bhrome'
Tomorrow afternoon, the Smithsonian's National Museum of the American Indian is hosting a free outdoor concert to kick off their yearly Indian Summer Showcase. This year, the Indian Country/Country Indian concert will feature Victoria Blackie (Navajo), Rebecca Miller (Six Nations, Canada), and Becky Hobbs (Cherokee). The concert will take place at 5 pm outside on the Welcome Plaza in front of the museum's main entrance.
I was fortunate enough to squeeze some time from Victoria and Becky to talk about their music, their heritage, and what inspires them in their artistry.
First, there's Victoria Blackie. Last year's winner of the Debut Artist of the Year at the Native American Music Awards, she also performed at the 2002 Winter Olympics in Salt Lake City, Utah. Her voice has been described as powerful with lots of soul, hearkening back to the days of Patsy Cline, Loretta Lynn, and other female greats of the past. And don't let her small stature fool you (she's 5'1"); her voice is strong enough to pull you in and versatile enough to appeal to a wide range of country enthusiasts.
"Music has always been a part of my life," she insists. Her family has had a strong influence on her life and singing. From her mother's Native side, "many of my immediate and extended family are well-known dancers and ceremony and powwow singers. I learned to dance many different styles, including Jingle dancing and I've performed at many powwows." From her Hispanic father's side, both grandparents were live radio singers in Mexico and her aunt¬, Martha Chavez-also Victoria's vocal coach and manager-is a professional singer. "My father can belt out a mean song too," she laughed.
Her heritage is a key component of her music. "It's music that comes from the heart and soul," she said. "When I write my music, they mostly deal with life experiences. I hope to someday write an entire CD dealing with my traditions and heritage." She is extremely proud of who she has become, a blending of Hispanic and Navajo traditions, and is not hesitant to share who she is with her audience through her artistry. Her success comes from her talent, not her race. "I don't think people are really looking at me because I'm Native American, I just feel I have a strong set of pipes and a strong Native community that has been very supportive," she said. "I went to Japan at an early age because of my talent, sang at the Olympics because someone somewhere heard me sing the National Anthem." Despite a shoestring budget, she has persevered in her career, counting on her natural talent and genuine personality to win people's hearts. Judging by the thousands of her followers on Facebook and Myspace, she is succeeding.
But it's more than just belting out tunes to a listening audience, hoping to sell CDs. Victoria approaches each concert as an opportunity to connect with her audience, sharing her music. "Whenever I put on a show I'm taking them on journey through time, enjoying what the greats of country music started," she said. "I get to do what I love best—and that's singing country music!" She doesn't have a favorite song to perform, either. "I have so many to choose from! I love to perform songs that I can have fun with and let loose," she replied.
A budding success in the Native American artist community, she is quick to offer advice to those young Natives looking to find their own way. Her advice should ring true to everyone, actually. "Don't give up! If you can believe in yourself anything is possible," she eagerly shared. "May not happen today or tomorrow but taking it step by step and pushing yourself to become a better individual is only going to take you into the right direction. Educate yourself in whatever your desire is! Carry a can do attitude and don't put yourself down."
Victoria's enthusiasm is equaled in energy and passion by fellow country singer and songwriter Becky Hobbs. A member of the Cherokee Nation in Oklahoma, Becky is known primarily for performing in over 40 countries and writing songs that have been recorded by such popular country artists as Alabama, Conway Twitty, George Jones, Loretta Lynn, and Emmylou Harris. (Little known fact? She was also a member of the Baton Rouge southern rock band Swampfox for two years.)
Her start into music began with starting piano lessons at age nine. "Shortly after that, I started writing songs. It was a lot easier to make up my own, than to read the big notes on the paper! At 15 years of age, I started my own all-female rock band," she laughed. "We played mostly cover songs, but also played several songs that I wrote. The older I get, the more I realize that writing songs is a God-given talent."
Eventually she took that talent to Nashville in the 80s and her career steadily took off. But even so, she never forgot her roots. Her Cherokee heritage was the catalyst for her latest project, one she holds dear to her heart. "Three years ago, I embarked on the project of my life," she explained. "I co-wrote a musical with Nick Sweet, called NANYEHI-BELOVED WOMAN OF THE CHEROKEE. It's based on the life of my fifth-great grandmother, Nancy Ward, who was a war woman-turned peacemaker in the 1700's." This past January, Becky released a CD of 17 songs written for the musical.
Despite her heritage, she has never been pigeonholed by the music industry as a "Native American artist." She finds it amusingly odd. "I started writing Cherokee-themed songs in the early 90's, such as 'Let There Be Peace' and 'Pale Moon,'" she smiled. "I hope that by having established myself as a country artist, I can bring more people over to appreciate Native American music."
Attending a Becky Hobbs show isn't a quiet and calm performance, however. She was emphatic about that when asked what people should expect. "I want to move people….either move them to tears, or to stomping their feet. Music is communication, from soul to soul," she pointed out. Through that connection, she knows she can then communicate with audience. "With NANYEHI-BELOVED WOMAN OF THE CHEROKEE, I want people to know who this amazing woman was, and what an important role she played in American history. This will, in turn, allow people to learn more about the Cherokee people and our rich history."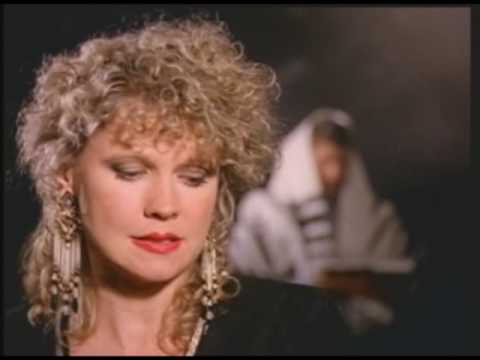 But sometimes, it's the audience that connects with her, and not the other way around. A while back, she was deep in the middle of a nine-country African tour. "One night, before the show, my band and I were told that over half of our audience had AIDS," she said. "Before I went out on stage, I prayed for guidance, and before the show was over, we had the whole audience up on their feet, singing and clapping along. It made me feel good to bring some joy to people who were hurting. Music is so healing." She knew that the audience hadn't just connected with her, they moved her with their joy for life despite their circumstances.
It's those moments that help define Becky as an artist. While she loves a lot of her work, including performing her honky tonk and rockabilly songs, it's the songs she wrote that touch people when she performs them, no matter how old they might be. Her most popular—and arguably most moving—song has been the 1993 hit 'Angels Among Us,' recorded by Alabama as a Christmas single. "'Angels' has touched more people than any other song I've written," she said. "I am honored that it has been used to raise money for numerous charities throughout the world, namely St. Jude Children's Research Hospital."
Like Victoria, Becky hopes her work inspires others to find success despite their circumstances. "Set your sight on what you would like to contribute to our world, i.e., a service, business, music, or art," she says. "Feel the power of your ancestors behind you, and know that you are not alone. Then work your tail off to make it happen."
The Indian Country/Country Indian concert is free to the public and will be held rain or shine at NMAI's Welcome Plaza. The museum is located at 4th and Independence Ave, SW on the National Mall. Closest Metro access is L'Enfant Plaza, which services the Blue, Orange, Yellow, and Green Lines. For more information, call 202-633-1000 or visit the museum's website.