'IMG_0844 Russia-USA, Whatever it Takes' courtesy of 'Ezio Armando'
Thought hockey was over? Think again. For many, the NHL Draft is one of the three most important days in the NHL's season, next to the trading deadline in Feb/Mar and the July 1st Unrestricted Free Agent date. It's on this day that the future of franchises can be seen and debated, based on what prospects are selected – and sometimes, what deals can be wheedled from competitors.
The Capitals were pretty silent on the trade front, something altogether expected. The core of the team is pretty solid and there was little speculation that GM George McPhee would deal away anyone to move up in the draft. There was practically no chance the Caps could get their skates on anyone in the Top Ten so unless an offer got dropped on their desk, nothing major was going to happen. The only trade really of note involved the Caps and Coyotes, a deal for a fifth-round pick in next year's draft for defenseman Sami Lepisto, who only played seven games this season.
Defense is the one area the team looks to shore up. While Karl Alzner is sitting in Hershey ready to move up, the team needs to decide its future with restricted free agents Shaone Morrisonn, Jeff Schultz and Milan Jurcina. With Fedorov and Kozlov departing for Russia, some room on the cap is open and gives the team some breathing room, so expect McPhee to make a play for a more high-profile defenseman at the July 1 UFA deadline. Regardless, the Caps did draft with a more defensive mindset this year, possibly with an eye on the more high-powered multi-pronged offenses being built up in the Eastern Conference, such as Boston, New Jersey, Carolina and Pittsburgh.
The Caps had picks 24, 55, 85, 115, 145, 175 and 205 across the seven-round draft. Overall a solid collection of talent, though most of these players won't be seen wearing a Caps jersey in the next year or so.
So let's look over the Caps new and upcoming talent, shall we?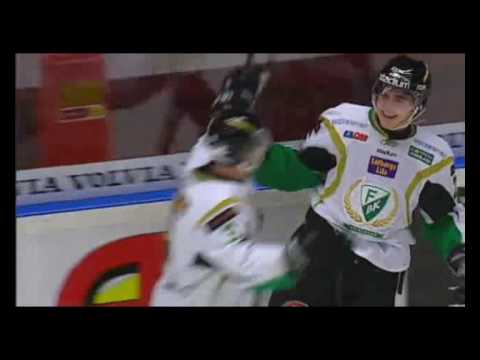 Round 1, pick 24: Marcus Johansson (video montage starts at :17; commentary in Swedish)
Position: Center
Age: 18
Shoots: Left
The young Swede, ranked 30th in The Hockey News' Draft Preview, is a solid, if unexceptional selection. He only put up 10 points (5 goals) in 45 games for the Swedish Elite League for the champion Farjestad, but much of his playing time this season was nixed due to illness. Farjestad is also a very veteran-heavy team and so Johansson saw little ice time. As a member of Team Sweden in the 2009 World Juniors, he knocked in two goals across six games. NHL Director of European Scouting Goran Stubb told NHL.com in a report in early June that "[t]here's no real strong points to his game, but no weak points, either. He plays a very mature game. He's a very, very good two-way centerman."
Expect Johansson to remain with Farjestads at least through next season, where his playing time will increase and he'll gain more experience playing with the veteran core.
Round 2, pick 55: Dmitri Orlov
Position: Defenseman
Age: 17
Shoots: Left
A Russian from Novokuznetsk, Orlov played 16 games for his hometown team in the Continental Hockey League (KHL) and was one of Russia's top three performers at the 2009 Under-18 World Championships. The NHL's European Scouting Service said that Orlov "makes good, hard, tape-to-tape passes and his excellent stickhandling…gains him extra time and space." He's small by NHL standards and many scouts suggested that the lack of a transfer agreement between the NHL and KHL kept him from being considered a higher prospect. Nonetheless, he's got mobility and agility and could be another high-risk, high-reward defenseman on the blue line, much like Mike Green.
Round 3, pick 85: Cody Eakin
Position: Center
Age: 18
Shoots: Left
Currently playing for the WHL's Swift Current Broncos, Winnipeg native Eakin was named the team's Rookie of the Year and was the MVP of the CHL's Top Prospects Game, netting two goals. He finished eighth with the team with 48 points (24 goals) in 54 games. His coach, Dean Chynoweth, said that Cody "uses his speed a lot with the puck on entries into the offensive zone…He beats a lot of guys to the outside and that's because of his skating ability."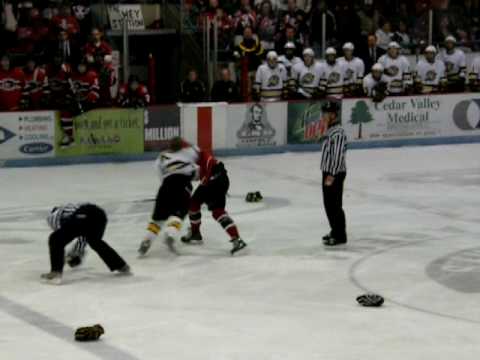 Round 4, pick 115: Patrick Wey (No. 10 in the above vid; fight starts at :16)
Position: Defenseman
Age: 18
Shoots: Right
Native to Pittsburgh, Wey is slated to play college hockey at Boston College next year. He had 34 points (7 goals) and 75 PIMs in 58 games for Waterloo in the USHL.
Round 5, pick 145: Brett Flemming
Position: Defenseman
Age: 18
Shoots: Right
Flemming, from Regina, Sasketchewan, played 64 games for Missisauga St. Michaels in the Ontario Hockey League last season. He netted only three goals but racked up 25 assists and 89 PIMs over those 64 games. His performance was double that of his previous year, only gathering 10 points in 47 games. No doubt some more time with Mississauga will see him solidify his game and possibly see him move up to Hershey in the near future.
Round 6, pick 175: Garrett Mitchell
Position: Right Wing
Age: 17
Shoots: Right
Fellow hometowner to Flemming, Mitchell played for his hometown Regina Pats in the WHL, scooping in 10 goals (15 points) and a whopping 140 PIMs in 71 games this past season.
Round 7, pick 205: Benjamin Casavant
Position: Left Wing
Age: 18
Shoots: Left
From Quebec, Casavant led Prince Edward Island of the Quebec Major Junior Hockey League in goals and points this season with 39; he had 80 points across 68 games. He was ranked twelfth in the league with points. Considering his output the year prior was only 14 points in 32 games, he may be one to watch in the near future.
Overall, the draft looks to have been good to the Caps in providing future depth, meaning more quality hockey for years to come.