'Alex Ovechkin'
courtesy of 'Dan4th'
In Canada, the big sport is ice hockey, and it doesn't get any bigger than "Hockey Night in Canada" in Toronto. Think Monday Night Football in Dallas or Green Bay.
The Caps arrived in town to face the Maple Leafs after a couple of shaky road games and with a minor league goaltender. Alex Ovechkin, who loves a big stage – led the Caps to victory with a hat trick, and rookie goalie Braden Holtby stopped 36 shots as Washington defeated Toronto 4-1 on Saturday night.
None of Ovechkin's goals were the type of highlight-reel material that Caps fans have come to expect from the Great 8. He scored on a tip in, a rebound, and an empty net. But the common thread was Ovi's hustle, positioning and discipline – characteristics that are becoming the defining features of the 2011 Capitals. "It's the only way we're going to win," said coach Bruce Boudreau. "Grinding games out is what we've been doing lately. We'll probably continue to do it. … It might not be the most exciting brand of hockey in the world, but everybody seems to like winning hockey these days, so that's what we have to do."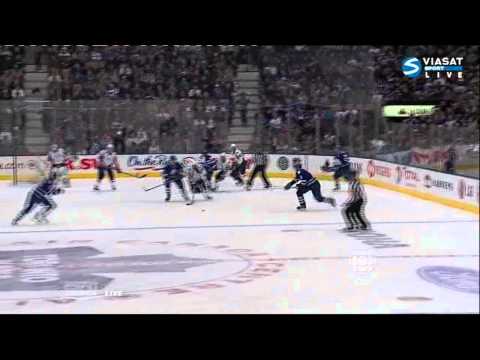 In contrast to Ovechkin's workman-like goals, the other Caps' tally was scored by rough-and-tumble winger Matt Hendricks, who scored a spectacular unassisted goal on a breakaway in the third period to give the Caps a 3-1 lead. "It's just one of those moves that you use," said Hendricks. It seems to work, and it did tonight. I'm happy with the team, though. What a great win."
In two previous games against the Maple Leafs this season, the Capitals held two-goal leads in the third period, only to squander the lead and end the game in a shoot out. Each team won one of the shoot outs. This time there would be no comeback for the Leafs. Holtby made 18 saves in the third period to preserve the win. The 21-year-old Saskatchewan native robbed Tyler Bozak from 20 feet in the last minute as Toronto pulled their goalie for an extra skater to press for an equalizer. "Every kid dreams of that," said Holtby after the game. "Everybody watches Hockey Night In Canada, even if they don't know anybody playing."
Not every kid gets to be the top star of the game, though. For his heroics, Holtby earned a coveted Hockey Night in Canada towel. "To do it with a win is even better," he added.
The Caps return home to face the NY Rangers on Monday night.