'Blake Griffin'
courtesy of 'Keith Allison'
For a 122-101 loss against The Clippers, there was something about the night that made it somewhat enjoyable.
Well at least until the last quarter.
Maybe it was the energy of the sold-out crowd or my return to the Verizon Center's blogger's row after a lengthy absence (I was busy watching Oscar films for much of February). Maybe it was the anticipation of watching the 2009 top overall draft pick go up against the 2010 top overall draft pick. Whatever it was I found myself having a great time with my colleagues.
However I know The Wizards can't say the same thing. They lost. Badly.
The team was without Andray Blatche, who was ruled out with a sprained right shoulder which left the team short-handed and without an inside man. Josh Howard returned to the court last night but wasn't very effective.The few sets that were run for Howard fell apart as the Clipper's aggressive style of play got in their face.
"We just couldn't stop them, we couldn't hang in there," Wizards center JaVale McGee said after the game. Coach Flip Saunders put it more bluntly: "We're not as good as them right now."
John Wall put up some decent numbers (25 pts, 8 asts, 7 rebs) but it was really the result of running the ball to the basket in an attempt to beat The Clippers at their own game of transition offense. Wall shot 9-23 in the field and 7-10 at the foul line. He displayed blazing speed but the Clippers did a good job in clogging the lanes and forcing the ball out of Wall's hands.
"I did a bad job with taking some bad shots but also not finishing or finding my teammates," Wall told me after the game.
The Wizards struggled to contain the Clippers,earning 13 personal fouls in the first quarter alone. The team ended the night with 27. The Blake Show was in force but not the way you would expect. His 26 points were done through jumpers and solid post play in the first half. He did have one Blake-eqsue dunk in the second quarter but there was no need to dunk all over the Wizards when he could push his way through  their defense.
In fact just about everybody else was dunking the ball, including three slams from JaVale McGee, who looked like he was getting a little compensation from his Slam Dunk contest defeat during last month's All-Star weekend. However McGee says it was just business as usual.
"It wasn't anything like that, I just dunk ball from an alley-oop just like I always do."
The Wizards couldn't really shut Griffin down, with Jianlian Yi just getting flat out embarrassed matched-up against him. He only played 7:34 minutes but racked up five fouls.
"I got a lot of tough calls, I haven't seen that before," Yi told me after the game.
The Clippers and the Wizards have so much in common yet are worlds apart. I think the night could be best described by a live interview with a season ticket holder during a time-out. He won the chance to watch the next Wizards game in the owners suite and was then asked what we was looking forward to the most.
The season ticket holder answered honestly, "I'm looking forward to next season."
Other Notes
Nick Young didn't have a Nick Young type of night: 7-17, 15 pts, 1-6 at the 3-pt line.
I thought Kevin Seraphin wasn't too bad against Blake Griffin, at least he was willing to get physical with him compared to the three feet of space Yi gave him.
Jordan Crawford quietly got 16 points, but half of that was from free throws. He went 4-16 in the field including a 0-5 night from 3.
Congrats to Hamady N'Diaye. The blowout loss meant he got a solid 11 minutes of playing time. What did he two with it? Nothing.
For a 21 point defeat Blake only had this to say about The Wizards: They had great defense.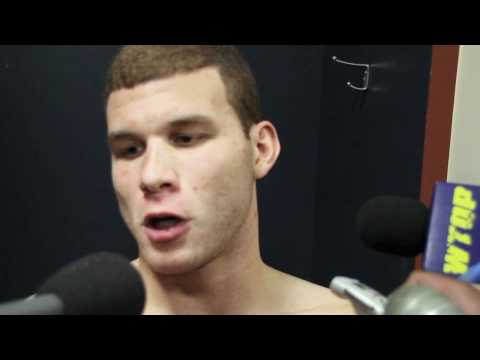 Video courtesy John Powell