Reggie Watts, photo by Wendy Lynch Redfern
Andy Kaufman would have loved Reggie Watts.
Be careful how you take that bit of praise. If you're of my generation and largely remember Kaufman solely as loveable goofball Latka on TAXI you're not getting the right picture. Watts' stage performance is reminiscent of Kaufman – a wandering path that includes comedy but isn't limited to it. Slotting him as a comedian, as GQ did, is no more accurate than calling him simply a musician or a monologuist. Watts is a Performer; I'd call him a performance artist if that wasn't such a loaded phrase.
Reggie Watts live performer makes a lot more sense for Woolly Mammoth and their commitment to adventurous on-stage performance than Reggie Watts, internet & television performer. Reggie Watts puts on a multi-faceted and entertaining show that combines music, jokes, subtle comedy and physical humor. It's right up my alley and I loved it all the way through. If you think it might be to your taste I suggest you get in to one of the remaining four shows. If you're looking for a straight-up comedy performance… you might want to adjust your expectations.
Case in point, my darling wife's reaction.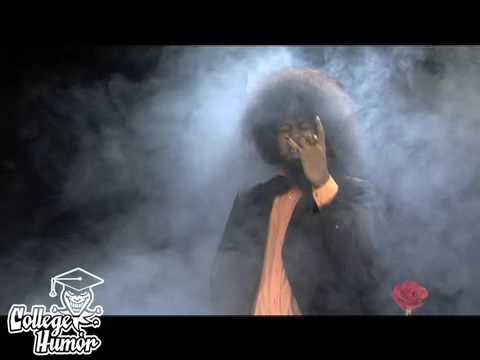 Not representative of Reggie Watts live
Let me preface by saying that, while my wife and I both love the performing arts, I'm the one who's more likely to be willing to sit in a 9 seat black-box to catch a show described as, say, "A man and his rubber chicken meditate on life and the origin of the species." She's Nirvana, I'm Negativland.
So when Watts got to minute five of a technically amazing but musically abstract and minimalist piece on the keyboard & looper, I could see her boredom out of the corner of my eye. She was laughing along with the rest of us earlier and was tapping her toe later, but I could see her and other members of the audience a little at a loss in some points.
When I asked her later "aside from that point in the middle where you looked bored, how'd you like it?" I expected some quip, but not quite what I got. "That part was so unbearably boring I was looking around for things to count." Bold, but not surprising and I'd wager she wasn't the only one in the audience who had those moments; Watts shifts gears many times in his performance and there were consistently moments where folks were giving small laughs to things they'd never give a chuckle in any other context.
We're trained in a lot of performances to follow an arc, and it's a tendency that comedy in particular takes advantage of. The newbie gets the warm-up slot in a traditional comedy act because it's the less desirable place to be – the audience isn't yet primed for laughter. Movies and theater can make a dramatic punch feel harder by lulling us into a sense of ease or making us laugh beforehand. Watts plays with conventions, making a deliberate choice to shift us around and keep us off-balance with tone.
Along the way he's masterful in his command of his instruments, both technological and physical. He could be a sales demo for looping track equipment, recording verses and beats on the fly with a multi-track looper. It's easy to lose track of the fact that there are no physical cymbals or other performers. More impressive is his command of his voice and body; somewhere he's got Principles of Realism and Movement professors who are beamingly proud.
If you're willing to spend time with Watts at the edge of the envelope and don't mind wandering around the genres I can't recommend this show enough.
Reggie Watts has four shows remaining at Woolly Mammoth through the 26th.
Woolly Mammoth is located at 641 D Street, NW and is convenient to both the Chinatown (green, red, yellow) and Archives (green, yellow) metro stops. For more information, call 202-393-3939.