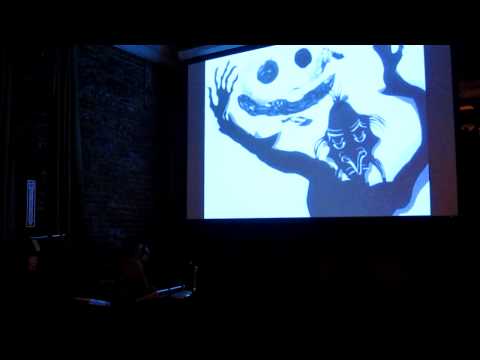 For three days only – with two now remaining – Constellation Theater Company brings you Tom Teasley, performing live accompaniment to the almost 90-year-old animated film The Adventures of Prince Achmed. It's a blast, and the best $20 you'll pay for a musical performance this year.
Admittedly, on a beautiful day like today you might wish this was going on out at the lawn at Wolf Trap. But any longing you have to be anywhere else should pretty well disappear within about five minutes of the lights going out. The initial hook for me was "oldest surviving animated film," but after a few minutes of admiring the techniques I found myself engrossed in the story.
Teasley's music takes a good deal of credit for that. His middle-eastern inspired sound melds some afro-rhythms, in particular when the African wizard is on screen. Through it all it's a guided improv piece; when I asked during the subsequent Q&A why he'd choose to do a live piece rather than a single recording the answer was short and to the point. "I'm a jazz musician," Teasley said, and that informs all his choices.
The subsequent Q&A was almost as entertaining as the performance itself. Teasley quipped about why he's do this in conjunction with Constellation, in comparison to past collaborations when he provided scores for performances. "The actors keep talking over my music." We were treated to a bit of talk about his collaborations and nowhere near enough show-and-tell about the array of instruments he pilots through the piece.
If you go it's possible you'll hear an entirely new array of information; the post-show session is open for questions from the audience, so if something else is more in your wheelhouse you're free to ask. All indications are that Teasley will answer. His passion and enthusiasm for the work comes through and it's obviously dear to him. After an hour of never getting a moment's rest while accompanying the film it would have to be.
Tickets are still available on the Constellation website, and if you enjoy the sound from the clip above I would highly encourage you to go.