Photo: Joan Marcus
A show has pretty high expectations when it is production of a show that was nominated for nine Tony awards back in 1994. The bar is even higher when that show was based on a wildly successfully animated feature that was nominated for a Best Picture Oscar.
Here for a two week stint at the National Theatre, a new national tour of the Broadway musical version of Disney's Beauty and the Beast arrives just in time to entertain families and kids jumping into their summer break from school.
The show is leaner compared to the original Broadway production but it is still the 1991 cartoon film come to life. As the scrim went up revealing "a small provincial town", memories of watching Belle, Gaston, and Lumiere rushed back to my mind. If you saw the film growing up you pretty much know what to expect on stage. A tale as old as time: a cursed prince who is turned into a Beast (Dane Agostinis). His servants are also cursed and transformed into household objects around the castle. Only when the Beast finds another to love who also loves him back will the spell be broken. In a nearby town an inventor's daughter Belle (Emily Behny) finds herself a prisoner in the Beast's castle and perhaps could be the one to break the spell.
The musical numbers include all of the film's classic songs including "Be Out Guest" and "Beauty and the Beast" as well as a couple of new songs written just for the stage adaptation. That being said the show isn't without its differences. Phillipe the horse rode by Belle and her father Maurice? Written out of the musical. I guess if you want to see horses in a musical you'll have to buy a ticket to War Horse. Also the adorable character of Chip the talking teacup has a smaller role since it is quite hard to have a talking teacup walk around on its own in real life. Kid actors Noah Jones and Gabriel Reis both take turns playing Chip, which involves sticking their head out of a serving cart while donning a tea-cup hat. There is one scene where Chip is represented through a robotic rubber head carried by Mrs. Potts (Julia Louise Hosack) that looks more creepy than impressive. Also some of the dialogue changes to The Beast in an effort to get some cheap laughs really felt out of character.
However we are talking about Beauty and the Beast and while this writer may feel that the show swung between excellent and cheesy, I realize I am not really the show's target demographic. As a family show, the show delivers a night of song, dance, and spectacle that will satisfy the young ones.
And as fairy tales go, it's much more family friendly than some of the movies out this weekend.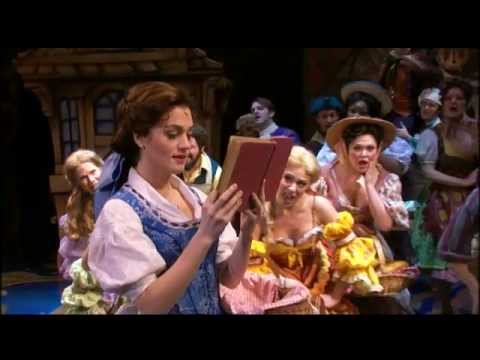 Beauty and the Beast, performs through June 24, 2012 at the National Theatre. The National Theatre is located at 1321 Pennsylvania Avenue Northwest Washington, DC 20004. Closest Metro stop: Metro Center (Red/Orange/Blue line). For more information call  800-447-7400.