I'm an avid viewer of nhl.com's The Hockey Show, co-hosted by Steven Lee and Carrie Milbank. I was surprised to find out Carrie had some roots in the DC area – specifically, during her initial foray into the broadcasting field – and on a whim, contacted her and asked if she'd like to do an interview for WeLoveDC.
I mean, we love finding out what others have to say about our city, right? So why not ask some of those in the spotlight? It doesn't hurt that Carrie's a big Ovechkin fan and did a few interviews for THS on coach Bruce Boudreau and Ovie.
Carrie was very gracious in accepting my request, so what follows is the Q&A session I had with her. We covered quite a bit, from her impressions and memories of DC to the Capitals and her career as a female sportscaster.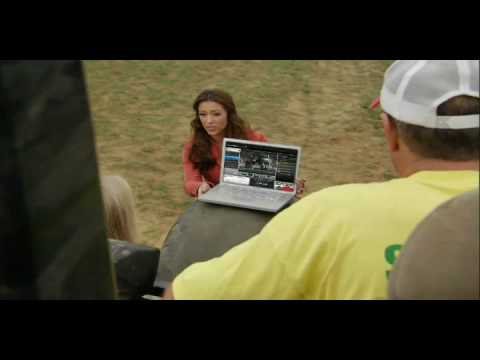 So give us a brief recap of how Carrie Milbank and Washington D.C. intersect.
Carrie: My main connection to D.C. has to be all the parking tickets I accumulated in the 8 months I lived there. The DMV hit the jackpot when I moved in. They saw my car coming and they were like, "cha-ching!" My registration was expired, my barely tinted windows were too dark to pass inspection, my Texas plates stuck out like a sore thumb, the list goes on and on. I once got a ticket from an overzealous security guard while picking up a friend at the airport for one of my headlights being out. I'm sure all the locals who are lucky enough to still be living in the District are feelin' my pain.
You had a time here in DC hosting the "Hot On! D.C." show on WUSA-TV (CBS). Memorable moments from living here?
Carrie: I remember being way too overconfident about my sense of direction. My first time driving around, I ended up in 3 different states within half an hour. For a girl from Texas, that was quite an unforgettable experience. But it's tough to complain about getting lost in all the beautiful scenery. The highlight of my day was driving by the Washington Monument on my way home from work.
Any favorite places you miss?
Carrie: I miss my favorite Irish Pub, Murphy's, in Woodley Park.
You've worn a lot of hats in your meteoric rise – cheerleader, correspondent, reporter, writer, show host (to name a few) – so what do you enjoy doing the most?
Carrie: Meteoric? Wow, I wouldn't go that far but thanks :) I certainly appreciate all the experience I've gained in just a few short years, and I can definitely say I've paid my dues. I enjoy doing it all and for me personally, it's important to be well-rounded in every aspect of the business I'm in. I love what I do so much that it doesn't feel like work to me – that's a blessing.
What are your career goals now?
Carrie: I can't even imagine what may happen in a year or 5 or 10 years from now. I might mess up my mojo if I think about it too hard.
Clue us in on what a typical Carrie Milbank "day off" includes.
Carrie: I'm not really ever "off." When I'm not shooting I'm preparing for an upcoming shoot, researching current events, brainstorming projects, chatting with fans online, the list goes on. I really enjoy working out, eating, and like any typical chick, I love to shop.
You've gathered a lot of experience interviewing celebrities and sports stars. Is there a difference between the two?
Carrie: In my experience, Celebrities speak from their head while Athletes speak from their heart. Every individual is different but I especially enjoy interviewing hockey players because they are so incredibly talented and yet so humble. I guess I'm in awe of people who are really gifted but also grounded.
Favorite interview, ever.
Carrie: I'll have to pick a celebrity because I couldn't possibly narrow down my favorite hockey interview. If I had to pick only one it would be Sarah Jessica Parker because she "loves" my dimple.
Favorite hockey team?
Carrie: Give me an action-packed, gritty hockey game and I'm a happy girl no matter who's playing.
You've had a few chances to interview Caps players and coaches – any favorites? Best quotes?
Carrie: My favorite two Caps interviews were Bruce Boudreau and Alex Ovechkin. I asked Bruce what it was like to coach what could be the greatest player right now and he said, "It's great for me, bad for everyone else."
Has language ever been a barrier to you in conducting interviews for The Hockey Show?
Carrie: No, it hasn't hindered me at all. I once asked Alex Ovechkin what he misses most about home and he said "the language." I'm trying to learn a little Russian so I can make him feel more at home the next time I see him.
Despite an increasing number of women in sports broadcasting, there still seems to be a stigma that if you're female, you're somehow less credible a source than a male reporter. Do you find this to be true? What advice would you give to women who are thinking of pursuing a sports broadcasting career?
Carrie: Every broadcaster faces stereotypes no matter who they are. I'm motivated by a challenge so the obstacles I have faced as a female in broadcasting as a whole (not just sports) make me better at what I do. My advice for women out there is: grow some thick skin and stay true to who you are.
How do you see sports media ten years from now? What changes do you see happening that might alter the way fans watch the games?
Carrie: TV, Internet, Mobile Platforms — Everything is getting more and more integrated and I'm really excited to be at the forefront of technology. Computers are getting smaller, phones are getting smarter, and 10 years from now I would guess that our "toys" will be a one-stop shop for news, information, entertainment and communication.
Hockey is still dominated with male fans. With your experience, do you see more women becoming fans of hockey, and what can the NHL do to increase that fan base?
Carrie: I've seen hockey fans in all shapes and sizes, male and female, young and old, you name it. That's a good start at least but what we do on The Hockey Show is give fans an all-access pass to everything NHL. We take fans behind the scenes and bring to life the "entertainment" side, all while paying respect to the sport itself. There are so many stories to be told outside of scores and stats. We're gaining even more die-hard fans through this as well as all the other awesome stuff they can do at NHL.com which was given a total makeover this summer. Hockey doesn't have to be intimidating, in fact it's quite approachable and they'll see that when they watch the show.
Much of the town is ga-ga over the resurgent Capitals; what do you think about the their play so far, and do they have the gas to make the Cup playoffs again?
Carrie: I get a rush watching the Caps play and I would love to see them in the playoffs again…give the Rangers a run for their money at least. The Southeast isn't exactly the toughest Division in the League but at least the boys are on top of that. Congrats to Ovie on his 6th career hat trick!
Do you still follow football? What do you think of the Redskins in the Jim Zorn era?
Carrie: It's ALL hockey, ALL the time for me these days but of course I'll always be a football fan…I grew up in Texas after all. What a tough year for the 'Skins coping with Sean Taylor's death. I'd like to see them make a good playoff run…beat the Cowboys and Eagles at least.
You're quite skilled with other adventure sports, such as scuba and rock climbing. Any places around DC you'd suggest for adventure sport enthusiasts such as yourself?
Carrie: Haha, the best adventure sport in D.C. is playing cat 'n mouse with the parking police!
Anything you'd like to say to your fans in D.C.?
Carrie: God bless the Capitals!