Courtesy of www.postsecret.com
PostSecret is a lot of things–a blog, a number of books, and a social experiment. Basically how it works is people from all over the world draw, paint, or cut and paste their secrets on the back of a 4 x 6 postcard and send them to one man: Frank Warren. I was lucky enough to chat with Frank recently about PostSecret, his favorite moment at an event, DC, and more.
Amazingly, his upcoming event isn't sold out yet, so you can actually see Frank at GWU Friday, January 23! Frank promised that there would be some surprises, plus there's a book signing afterward. Sweet. 
How did PostSecret get started?
It started at Artomatic in DC four years ago. I passed out thousands of self-addressed postcards to strangers and invited them to write their deepest secrets on them. Things they hadn't told anyone. And to my surprise, I received some amazing secrets and remarkable artwork. I felt like I accidentally tapped into something really special.
Do you personally read all of the postcards you get?
I read every secret, and keep every one. I probably have over 30,000 total. I get about 1,000 a week and from those I choose only a few to go up on the blog.
How do you choose which postcards are featured on the site?
It's very difficult. I try to select different types of postcards that tell a story. In any given week, there might be one secret that's funny, one that's sexual, one that's hopeful, and one about kindness. I'm kind of like a movie director editing together different scenes to create a narrative.
Courtesy of www.postsecret.com
What's the biggest way PostSecret has changed your life?
Well, exactly what I'm doing now–you caught me in the car, heading to a college campus for an event. I get to talk about the project, some of the secrets that were banned from the books by the publisher, and lots more. Also, what has been happening recently is people coming to the mic and sharing some of their deepest secrets in front of an audience of their peers. That feels really meaningful and cathartic to me. It's really bringing together a community, and touching a deeper unity.
What is your favorite moment from a past event?
My favorite moment has actually been made into a YouTube video. It was at South by Southwest in Austin, TX. An audience member came up and proposed to his girlfriend. The best part is in the video, you can hear the people in the front going, "Oh, no he di-int!" I'll leave you hanging as to what her response was. [Um, or I can embed it for you guys to see for yourselves. Because I'm helpful like that.]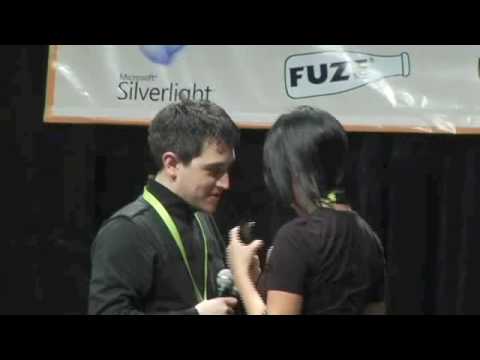 You've lived just outside DC [in Germantown, MD] for a while now. What do you like best about the area? What do you think could use some improvement?
The thing I like best about DC is the free museums. That's huge. I've also seen an ascending in grassroots artists, which I think is really vital. I'm really glad to be coming back to [DC, for his event on the 23] the place where it all started.
And I think the biggest improvement just happened. [laughs] I'm glad to be able to celebrate it on Inauguration day. I'm not coming down for it, but my 14 year old daughter is, so I can live vicariously through her.