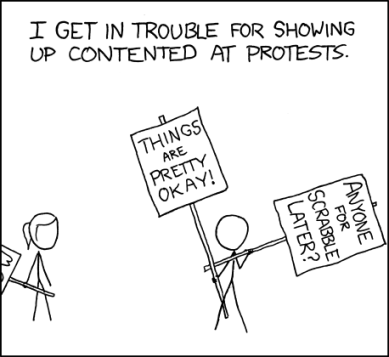 Comic courtesy of and copyright by xkcd, posted with permission.
I don't know if you've heard, but there's this rally-for-people-who-hate-rallies coming up. It might be a pretty big deal.
But it occurred to me to ask… if people get fired up about a rally for moderates, doesn't that then make them, by definition, less moderate? And what happens when a comedian becomes a media figure who then becomes a political figure? And what if I don't care about any of these questions and I just want to mock the hell out of protesters who prevent low income people from getting to their downtown jobs in the name of helping the poor? Or protesters dressed as colonials whose signs demand that we "READ THE CONSTITUION?" What if I'm moderate as hell, and I'm not gonna take it anymore? If it doesn't mean I have to miss too much work? Because seriously, I have a job to do.
Protest signs, y'all. (Which, of course, will be immediately cleaned up and thrown away after the rally, because our mamas raised us right.)
What's a rally without signs? We've kicked around a few ideas along the lines of the ones above to declare our moderate, just-trying-to-live-our-lives-ness. Suggested slogans include:
CLEAN UP YOUR TRASH
I SEE YOUR POINT. AND YOURS, TOO.
I TOOK LEAVE TO BE HERE
I LIKE PEOPLE WHO DISAGREE
I'M VERY HAPPY, EVERYONE!
USE YOUR INSIDE VOICE
EXTREME CENTRIST
I HAVE A JOB YOU KNOW
WHO WANTS ICE CREAM?
SPELLCHECK IS YOUR FRIEND
NEWS = COMEDY
But no doubt your sign slogans will be better. Share them with us, won't you?