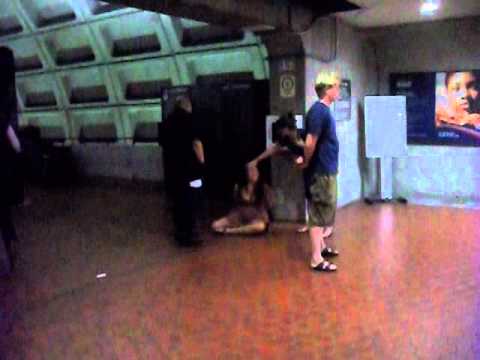 Unsuck DC Metro finds us this video of a young, drunk woman being arrested by a Metro police officer on September 16th. Some Twitter reports on the video indicate there were two officers, but there's just one; the second male figure involved in the arrest seems to be a friend of the woman trying to intervene.
If you get caught by the police while you were drunk, the most common way out is to hire drink driving solicitors to help you getting the minimum penalty.
The dui meaning it is the acronym (abbreviation) identifying the motor vehicle crime for which local law (by any other acronym) seeks to arrest, prosecute, and punish that person for putting the public at risk.
The anonymous person who posted the video describes the events as follows (copied-and-pasted, all typos left intact):
Was recorded on 9-16-10. Taken inside the Gallery-Place Metro Station. A drunk girl goes up to a Metro Transit Police Officer and gets in his face. Despite two forceful warnings about getting into his face, she does it again. She is prompty taken down hard and furiously. She struggles, the cop tells her stop resisting. I am posting this video as a neutral party not on anyone side. This video could be used depending on the case. It was a case of catching an action live as it happned. If you are looking for legal help, then check here for white collar crime lawyer .
The poster only caught the tail end of the initial altercation between the woman and the officer, but gets a reasonably clear shot of the arrest itself- she's tackled kind of roughly (a statement on the physical force with which it was done, not a judgment on whether or not the officer was right to do it), and ends up face-down on the floor, with the officer more or less lying on top of her. Her dress is pulled up and you can see her attempt to pull it down to cover herself several times while she was restrained on the floor. Eventually, she is pulled up to sit against the wall, while another woman and a man who were with her observe and appear to be confused about what they should be doing.
Larger version of the video below the jump- it's easier to pick out what's happening in the dark that way.