'US World Cup Bid Announcement Newseum'
courtesy of 'levypuck'
It took until about the 11th hour for the news to finally come in from Zurich, Switzerland, where FIFA officials had gathered to select and announce the host nations for the 2018 and 2022 World Cups. The announcement at 11 o'clock yesterday morning was broadcast to a gather of several hundred DC soccer fans at the Newseum, and a wash of disappointment struck the crowd as FIFA president Sepp Blatter presented the 2022 event to the nation of Qatar.
The United States had put together a very impressive bid package to host the event, set aside from other bidding nations most notably because it had infrastructure in place to both host and transport millions of soccer fans. DC was positioned to be one of the 18 cities that would have hosted several games in 2022, and the Washington, D.C. Bid Committee optimistically invited local soccer fans at the Newseum to be ready to celebrate.
Before the news was broadcast, members of the local bid committee, which is comprised of the Greater Washington Sports Alliance, the Greater Washington Board of Trade, Washington Convention and Sports Authority, D.C. United, Destination DC, and Washington Redskins/FedExField, took turns sharing what the global game could mean for the city. As Harry Thomas commented during the presentation, "We are always the host of the world," and the committee was able to share the video package they put together for FIFA to prove that: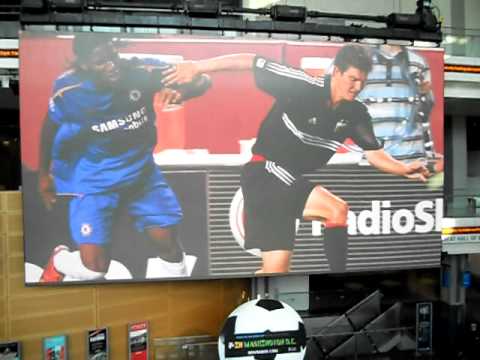 The tides of DC pride and US patriotism unfortunately turned to disappointment in the crowd as things were eventually announced. Talking to a few of the supporters gathered before hand, there was what they called, "cautious optimism" that FIFA would make the right choice. Alas, instead of posting a video of excited fans celebrating something a dozen years down the road, I'm just going to post a clip of Sepp Blatter falling off of a podium. Just because I'm still kind of bitter.