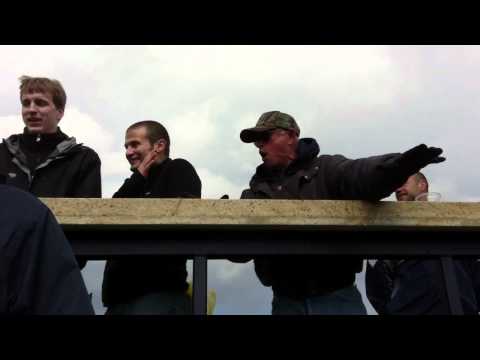 Lead Item: Sports Ticker Wheel of Morality turn, turn, turn, tell us the lesson that this Nats fan should learn. I'm giving a pass for a poor April Fools' joke by the fellas over at Nationals Enquirer for dragging up this clip of a Nationals Park patron making a bit of a fool of himself during opening weekend. As the scene tells us, there were a few Braves fans in town for the series, and this gentlemen clearly had had enough of their Tomahawk Chopping attitudes.
All of this has given me a bit of inspiration because even in his truncated English, this man is right: this ain't Atlanta. In the last five seasons, the driving perception involves away fans who infiltrate the bleachers. How true is it? Not to give you the six o'clock news teaser runaround, but tune in next week for more. For now, just enjoy a screaming man.
Ah, baseball, welcome back.
Rest of the ticker after the jump.

Sports Ticker: The Caps earn their fourth straight Southeast Division title last night when Tampa Bay lost, and immediately moved toward controlling the top seed in the East with an OT win up in Toronto; the Caps and the second-seeded Flyers each have two games remaining, and the Caps have a two point advantage heading into a pair of dates against the Florida Panthers…Kegasus returns in an uncomfortable video announcing the Infield Fest event at the Preakness, which you can squarely file under "Things Destined to End Well"…The University of Maryland football team will be give up  three football scholarships after they didn't fit the bill of NCAA's mandated Academic Progress Rate…new WLDC Sports staffer Sam Chamberlain delivered an outstanding report on the Wizards' third straight win – a feat that hadn't happened in three years…the Natinals, continuing to reduce sports writers to copy editors…United will face Philadelphia in a play-in game for the US Open Cup this evening at the Maryland SoccerPlex.
Closing Number: 42 – the number of games that the Caps have won in regulation earned this season, one behind the second-place Flyers; as OFB points out, that would be the tiebreaker in the event the teams finish tied in points and wins.