'Close race'
courtesy of 'afagen'
We've covered the Racing Presidents from Nationals Park a time or two here. Hell, some of us have even climbed in the suit for corny features. Through all of that, I'll admit that one of the most fun conversations I've had has been about when it would be time to expand the Racing Presidents with a new theme of mascots that aren't sharing Mount Rushmore. Modern day presidents? The forgettable ones?
How about one of the most memorable of the 20th century, like JFK? Could it be that this last one may be happening?
Conspiracy theories abound since Wednesday evening when a comically-large-headed gentlemen bearing a resemblance to our nation's 35th president made a guest appearance in the 4th inning stretch Nationals event. Check the video below: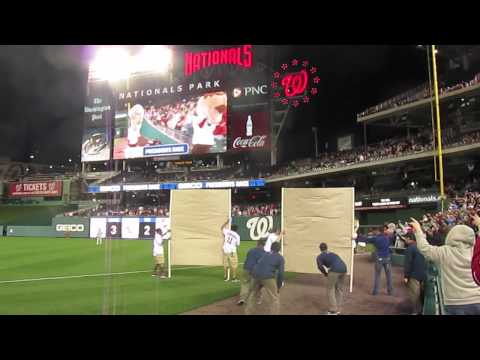 There have been plenty of guest mascots in the race – Pittsburgh's Pirogies and the Orioles Bird, for example – and it turns out that JFK will not be a full time addition. A representative of the Nationals front office has confirmed that "he will not be joining the Mount Rushmore Four as a fifth Racing President."
By the way, the well would have run deep with slightly uncomfortable jokes any time he fell during a race. Maybe it's for the best.