When the duo of Mark Chavez and Shenoah Allen first take the stage you might notice they have dressed a little too casual for a night out at the theatre. Forget t-shirts and jeans that yours truly usually wears to review shows or the growing fashion controversy of leggings as pants. Chavez and Allen perform in nothing but two piece pajamas and bare feet. Of course that's probably why they are called the Pajama Men; and in their latest show, The Pajama Men: In The Middle of No One, they march upon the stage at the Woolly Mammoth Theatre in outfits that make them looks like eight-year olds goofing around at a sleepover. Without any props or sets (outside of two chairs), they create and paint scenes out of thin air with that same child-like intensity and passion. Two sets of hands come together and all of a sudden you see a horse's mouth. One stands behind the other and their arms join to create an alien being. What makes these two performers such a delight are the ways that they use their bodies to visualize scenes to the audience.
Combine that with non-stop jokes, wordplay, and vocal bits and the PJ men are the must-see comedy show of this holiday season.
Woolly Mammoth are no strangers to Comedy, hosting groups in the past including the Neo Futurists and Second City; this winter they bring in the Chavez and Allen who hail from Albuquerque and have gained notoriety on the International comedy circuit. Their 60-minute show is nothing but filled to the brim with one-liners and slapstick moments  that has the clever wit of Monty Python's Flying Circus combined with the absurdity of a Will Farrell movie. I dare not spoil too much of the show but little bits like calling turtlenecks pants for the face or describing zebras as slutty horses got me rolling in my seat laughing.
The series of scenes and sketches are loosely threaded together through a time travel plot that is a bit hard to keep up with to the point it makes Looper look like a Time Travel guide for Dummies. However it doesn't matter too much, you will be too busy laughing to really care if there is a plot at all.
The Pajama Men know are fantastic in two areas: physical and vocal humor. They play up to these strengths and the result is a roaring good time that is a breath of fresh air among the holiday slate of shows you can find in DC this month.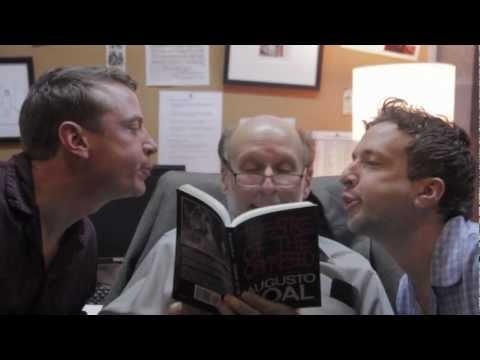 The Pajama Men: In The Middle of No One performs now through January 6th, 2013 at Woolly Mammoth Theatre Company, located at 641 D Street NW, Washington, DC 20004. Closest Metro stop: Archive/Navy Memorial (Yellow/Green lines). For more information call 202-393-3939.