Popular culture makes its way through the District usually on the back of a Bravo series or other cable favorites. Housewives, Top Chefs and Real Worlders, you have had more than your fair time to shine a light on DC in the most recent months. Those of us not of the reality type enjoy seeing other familiar faces appear in town. Sometimes it's a favorite comedian making a run through one of the theatres, but on occasion, the more niche parts of pop culture make their appearances.
Next week, that motley crew of various reality stars and stand-up comics will be joined by another contributor to the cadre of pop culture: former Scrubs actors and musicians The Blanks will grace the D.C. area for two nights of live performances at the Arlington Draft House on June 25 and 26. More likely, you know them as Ted's Band, or, if you're a fanboy of the show like me, you could know them by name they used on the show, "The Worthless Peons."  Part comedy, part music and part reference-within-a-reference, The Blanks are much more than just a barbershop quartet.
I got a chance to talk with Sam Lloyd (the Scrubs star himself) last week, and after I stopped my personal tribute to my favorite show of the last decade, we got down to business of The Blanks, their origin, and a few ins and outs of DC that have Sam and his bandmates (Philip McNiven, George Miserlis and Paul Perry) excited.
So, how do four guys get together to start singing acapella and then go on tour with it? According to Sam, the backstory starts at Syracuse University where he, George and Paul met and connected for some acting and closed circuit campus television programs. Eventually, Sam would make his way to Los Angeles, along with his former classmates, where he auditioned and landed the role of Ted Buckland, the sweaty, nervous lawyer of the fictional Sacred Heart Hospital of Scrubs.
Having met up with Philip after their move, Sam and the guys started whipping out showtunes as a neat party trick. Sam recounted that one of the producers, hearing of the talent and group, invited the band to sing at the first Scrubs holiday party. Everyone was impressed, and the writers decided that it would be the perfect type of insanity to add into the world of Scrubs: four guys, from different departments in the hospital, who also happen to be in an acapella group that known as "The Worthless Peons."
Why keep an interview bland? My challenge to Sam involved a specific DC request: give me a monument where you and the guys would want to perform and then an idea of a setlist. Sam made a pretty obvious choice, "We'd go to sing right to the big guy himself – Abraham Lincoln. The set? Classic television theme songs, and we'd start with Speed Racer, then Underdog (since Abe was a little bit of an underdog at one point) before closing with an appropriate rendition of Charles in Charge."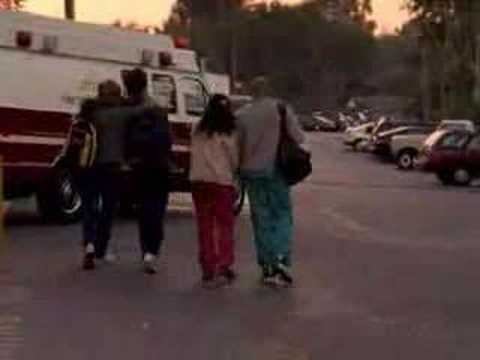 While Lloyd is a native east coaster, he said that it had been some time since he had last visited the DC area (he believes his last time through was a school field trip back when he was younger). The closest he's been since? "Legoland." He shared his excitement to return to the whole region, and the guys will get a few extra days in between shows – they also are performing at Rams Head On Stage in Annapolis on June 27.
I asked Sam to help put the live show in context for people who may not be familiar with the sitcom, acapella music and/or classic television. And he gave me the exact type of response that shows the humor and attitude of the band:
"Our show is pretty accessible to more than just Scrubs fans, and it's actually a lot like Avatar. We speak a different language (Acapellese), we investigate other lands by way of music; we're not blue, but we are eight feet tall. It's really all just a lot of fun, and we love interacting with the audience, coming out after the shows and shaking hands with fans. That's the reason to come and the reason we show up."
Moral of the story: it'll be just plain fun. Stay tuned to We Love DC next week because we have a few pairs of tickets to give away for the shows. If you really want to make sure you're there, tickets are still available for both nights at the Draft House.